After the devasting floods in Queensland and Victoria, many organisations, companies and crafters are helping out with the relief effort. Many craft sites are auctioning goods and services with the proceeds going to the flood appeal. Here are some of the sites:
Aid Organisations - monetary donations and and information on volunteering:
The Salvation Army
The Red Cross
Premier's Disaster Relief Appeal (Queensland)
givit
- a South Queensland organisation that links your donated goods with registered charity and relief organisations.
i can do that
- information on how to volunteer in Victoria and oline registration to volunteer in future emergencies
RSPCA Queensland
- The RSPCA does not get any government funding and their shelters in Queensland have been flood damaged. The
Victorian RSPCA
site states that they are managing with their current resources.
Craft and Arts sites with auctions: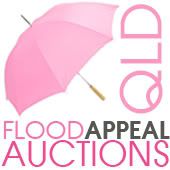 Make if Perfect
- a very large master list of sites with Queensland Flood Relief auctions. Payments are made directly to the Premier's Disaster Appeal, not to the crafters. Many of these will end 9pm Monday the 24th of January.
Flood Aid Art Auction
- Saturday February 12th in Kyneton, Victoria
Cottage Industry
- Queensland Tea Towel throw cushions. 100% of retail price to Queensland flood relief and free postage anywhere in the world! This finishes tomorrow, Saturday the 22nd.
Cottage Industry tea towel cushion
Quilts for Queensland
- make a quilt or part of one to send to flood survivors.
Spotlight
- Flood Fightback Blue Ribbon available in store free of charge to show support for flood victims.
Please comment on this post with any more sites that you know about! Mel